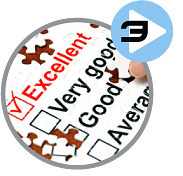 Your business or organization may have a great product or service; how you deliver it to your customer is a key to "retaining customers for life". Excellence is the "touchy, feely" thing customers need and desire because it is so rare. They are willing to pay extra if they can rely on it. It needs to be consistent and unwavering.
Delivering Excellence is the lifeblood that will keep any business or organization in demand regardless of time. In this step we talk about the following two (2) keys that will keep your doors open:
• Develop Loyal Customers
• Lower Expenses
In today's "fast paced and instant results" business world "Excellence" seems to be a dream or desire of the past. However, if you want to succeed in today's demanding economy "Excellence" must be a Top Priority! Don't believe me…Why is Wal-Mart enhancing their stores, why is McDonald's & Jack in the Box redoing their entire customer eating areas? These three companies are trying to improve their Excellence through the "image" they are portraying to their customers.
We all have a favorite business that we enjoy visiting because of their commitment to Excellence. Is your current customer service level setting the standard?
Delivering Excellence will not only reduce your cost but it will also increase your revenue! Your customers will become your best marketing agents and your staff will be the best in the business! Excellence is a lifestyle for those who care about doing business right the first time. My coaching and assistance will ensure it becomes your business standard.
Excellence does not happen by accident!

Elaman
602.430.0860
elaman1234@yahoo.com





© Copyright 2009, Elaman Rodriguez. Logo & website design Mike Rebel Design. All Rights Reserved Worldwide.