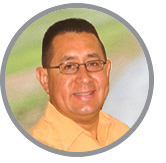 Growing up in Deming, New Mexico, Elaman still remembers being a paperboy delivering newspapers around town. This is probably where he had his first contact with Customer Service. He learned that delivering on time and having the newspaper land exactly where the customer wanted it had to do with having a passion for your job and a true love to satisfy the customers' needs.
His employment has ranged from Holiday Inn Hotels, to Honeywell, to America West Airlines and most recently at Bethany Bible Church. Each one of these occupations has allowed Elaman to learn, cultivate, and fully develop his Excellence in providing World-Class Customer Service. This array of employment opportunities has been the groundwork for Elaman to amass his expertise & passion and now deliver it to the marketplace.
"We all have a choice," says Elaman. "Excellence is something that comes from the heart yet it must be a mental decision for each person to make.Why do we settle for anything less?"
Elaman has enjoyed living in Phoenix since 1982. He graduated from Arizona State University with a Bachelor's degree, in Global Business (Finance), in 2006. Aviation, Architecture and current world events are interests that keep Elaman busy. Along with his wife, Gina, he enjoys traveling and being involved in the community.
Elaman
602.430.0860
elaman1234@yahoo.com


© Copyright 2009, Elaman Rodriguez. Logo & website design Mike Rebel Design. All Rights Reserved Worldwide.